After having strolled along a windy little road, so typical of the region, you will soon see appearing a signpost indicating the «

Métairie Rouge

»…. You're almost there! You just have to go down a dirt track and you discover our little corner of paradise, a jewellery box of light and nature, just 27 km from Cahors and 7 km from Saint Cirq Lapopie in the heart of the Causses du Quercy regional park. Fantastic surroundings, breathtaking views, and a ideal place to dream of a better world.
Guesthouses to rent all year round in the Lot,
swimming pool open in summer.
As our name indicates, this place is an old metairie meaning a collection of buildings and land dedicated to agriculture and occupied by a farmer and his family. It is thought to be the remains of a Roman villa.
Thus the Metairie rouge is composed of eight buildings : a main house, the old bakery, the stable  (occupied by the owners), a barn, and four more houses available for rent throughout the year for those in search of calm and beauty, discovery, walking, meeting others or just relaxing in the corner by the woodburning stove in winter or by the pool in summer! There is also a barn we are in the process of renovating. The property spread over 40 hectares of limestone (poor soil, consisting of a little earth but also gravel and limestone rock).
The size of this place can easily accommodate all forms of guest party, enabling everyone to free their creativity and imagination! You are welcome, if you are a large group: you can rent the whole place or part of it for a particular event or just to gather ; if you are passionate about yoga, permaculture, reading, music or other activities, whether spiritual or not; you can come and organise a workshop here, we love to meet new people and creative energy. If you are in search of calm and nature or if you are a family looking for a dynamic and original place to spend your holidays, this is  the place !
Have an unforgettable experience in one of our guesthouses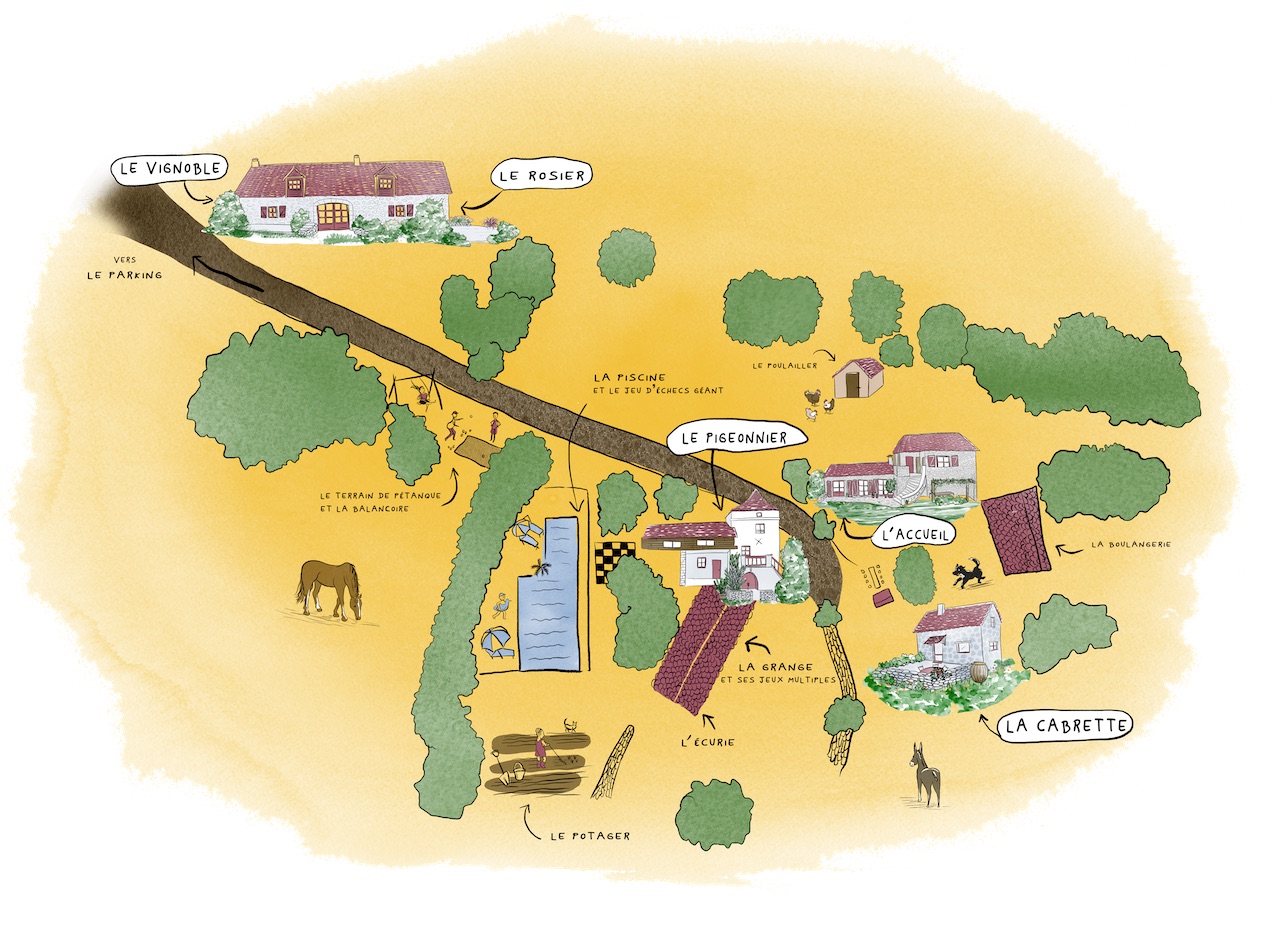 How to find the Metairie rouge
La Métairie Rouge
46330 Crégols
France
Gps coordinates:
Métairie Rouge, 46330 Crégols, France
Latitude : 44.427099 | Longitude : 1.655159